Armenia: Violence erupts over police station hostage crisis
Comments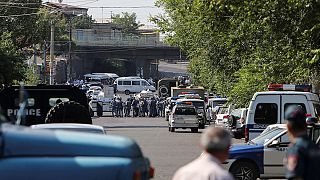 Hundreds of demonstrators have clashed with police in Armenia in support of gunmen who have taken several policemen captive.
The hostage-takers are seeking the release of an opposition figure who was arrested in June for alleged illegal weapons possession.
Jirair Sefilian, is a leader of the group Founding Parliament, which accuses the Armenian government of corruption and is calling for it to step down.
Demonstrators supporting the group on Wednesday (July 20) tried to break through police lines and threw stones and other objects. The police responded with tear gas and stun grenades.
During the clashes dozens of protesters were injured or arrested.