Fatal air strike targets Syrian maternity hospital
Comments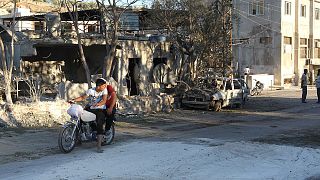 A maternity hospital in Syria's Idlib province supported by Save the Children has been hit by an air strike.
Two visitors to the hospital have been killed and three others wounded in the attack.
The mother and baby unit is the largest in the area the nearest alternate obstetrics facility is 100km away.
Dr Abdulkarim Ekzayez
Health co-ordinator at Save the Children International:"Our partners, they told us that there were seven airstrikes on the town where the hospital is. Actually, three airstrikes, they were in the surrounding areas of the hospital, while one airstrike targeted the entrance of the hospital. As a result, two people who were waiting in front of the hospital, waiting for their partners who were delivering in the hospital, they were killed."
Our partners confirm two people have been killed and several injured in the hospital bombing. #Idlib#Syriapic.twitter.com/Cy6UIiTYak

— Save the Children UK (@savechildrenuk) July 29, 2016
It is unclear who is responsible for the raid, but the area is under rebel control and the subject of Russian and Syrian government assaults.
Amnesty International condemned the bombing saying "Deliberate attacks on hospitals and medical facilities are serious violations of the laws of war and can never be justified. Hospitals, which have special protection under international humanitarian law, should be safe places for mothers, new-born infants and medical workers," said Philip Luther, Middle East and North Africa Programme Director.
In 5 years Syrian govt assassinated, bombed & tortured to death almost 700 med personnel-Physicians for Human Rights https://t.co/6Vn0PKmOjs

— William A. Williams (@william_willia2) July 28, 2016
The NGO Physicians for Human Rights monitors attacks on medical infrastructure and says that during the conflict 373 attacks on medical facilities, have been carried out with 750 personnel killed.