Syrian opposition reject humanitarian corridors as a ploy to empty Aleppo
Comments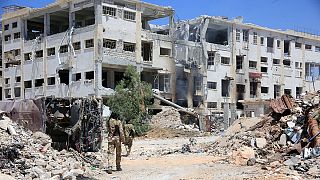 The United Nations has called on Russia to allow the UN and aid agencies to monitor the four humanitarian corridors out of the besieged Syrian city of Aleppo.
Moscow proposed the establishment of the escape routes for civilians and fighters who want to hand over their weapons.
Watch live: press stakeout by UN</a> Special Envoy Staffan de Mistura: <a href="https://t.co/TMoKiP53NW">https://t.co/TMoKiP53NW</a> <a href="https://twitter.com/hashtag/SyriaTalks?src=hash">#SyriaTalks</a> <a href="https://t.co/yhk0P5Xww2">pic.twitter.com/yhk0P5Xww2</a></p>&mdash; UN Geneva (UNGeneva) July 29, 2016
Staffan de Mistura is the special envoy for Syria:"Our suggestion is to Russia to actually leave the corridors being established at their initiative to us. The UN and the humanitarian partners, as you know, know what to do. They have an experience, that is our job. Bringing humanitarian supplies and assistance to civilians wherever they decide to be voluntarily is exactly why the UN is there."
The UN wants a series of 48-hour humanitarian pauses to allow aid workers get into the city, see what is needed and bring in help.
US calls Russia plan for exit corridors from rebel held Aleppo 'demand for surrender' https://t.co/5peyaFAOVs

— Laura Rozen (@lrozen) July 29, 2016
The fighting must stop before people will use the corridors according to de Mistura:"How can you expect people to want to walk through a corridor – thousands of them – while there's shelling, bombing, fighting?"
The city is encircled by President Assad's forces and the 300,000 people in Aleppo are running out of food.
Assad has offered amnesty to rebels who hand over their weapons and surrender to authorities within the next three months.
Syrian opposition groups are skeptical they say the Russian proposal for humanitarian corridors is actually a plan to force Aleppo's population to flee, claiming it is tantamount to a "war crime."