Priest killer was "under surveillance" yet still attacked French church
Comments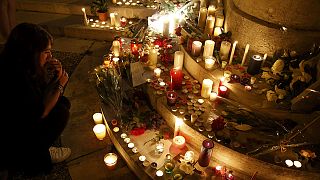 Shocked residents in Saint Etienne du Rouvray in Normandy have paid their respects with candles and flowers after the brutal killing of a catholic priest.
A major police investigation has been launched into the attack which involved two men taking hostages in a church and slitting the throat of the elderly cleric. The two assailants were shot dead by police.
Anger has grown since it became known one of the attackers, 19-year-old Adel Kermiche was on probation and wearing a surveillance tag after two failed attempts to reach Syria.
Paris Prosecutor Francois Molins:
"He was therefore placed in provisional detention until 18 March 2016 on which date the anti-terrorist judge ordered that he be placed under judicial control in the framework of a house arrest under electronic surveillance with a certain number of obligations."
Police are still trying to identify the second attacker.
Anti-terrorist police who have taken over the investigation are said to have made an arrest. Reports say the person is a minor known for his links to radical Islam and whose presence near the scene was seen as suspicious.
Tributes have poured in for Father Jacques Hamel, who has been described as a courageous and dedicated man. One hostage described the killed forcing him to his knees and then filming his murder.
ISIS claimed responsibility for the attack on Jacques Hamel, a beloved French priest who was killed at his church https://t.co/e9jTcgT2hd

— The New York Times (@nytimes) July 26, 2016
The news agency Amaq, which is affiliated with ISIL, said two of its "soldiers" had carried out the attack.
The killing in an attack on a church has horrified France – and many people have been using the "I am" hashtag "Je suis pretre" in a show of solidarity and sympathy.
R.I.P. Father Hamel #Isis#Evilpic.twitter.com/EbAkZnMwgF

— Patricia V (@PLVerratti) July 26, 2016