France demonstrates solidarity after second terror attack in two weeks
Comments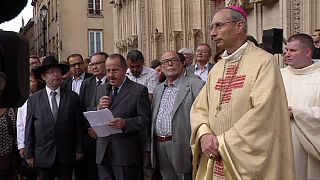 France is reeling from a second terror attack in under two weeks. People of all faiths have gathered for impromptu services throughout the country.
The truth will set us free.

Auxiliary Bishop of Lyon
In the south-eastern city of Lyon, officials and religious leaders stood side by side with Catholics to show solidarity in the wake of the deadly assault on the church in Saint-Etienne-de-Rouvray.
Le préfet assiste à la messe en cathédrale Saint-Jean #Lyon#SaintEtienneduRouvraypic.twitter.com/dEiadzAdUM

— Préfet Rhône (@prefetrhone) July 26, 2016
"Emotions are running high throughout France," said euronews reporter Frédéric Ponsard. "And here in the Catholic city of Lyon things are no different. Disbelief, worry, sadness, sentiments are varied… The church is calling for remembrance and wishes to send a message to stay calm and, despite everything, to forgive and have hope."
Auxiliary Bishop of Lyon, Monseigneur Le Gal urged people to look truth in the eye and to act in advance to try to prevent further tragedies.
"Some things hurt, but we don't want to talk about them, we don't wish to recognise them, but then suddenly it hits us in the face. And so, as it says in the Book of John, the truth will set us free. We must accept the truth and, faced with it, we see what we are able to do, before it is…
"You know when the Titanic came up against the iceberg, it was doomed. Before, we were able to do something. Before, today, for tomorrow and after tomorrow, there are questions to ask and each person acts according to their responsibilities and know-how," he said.
The rector of Lyon's Great Mosque, Kamel Kabtane, attended the Catholic service in the city's old town, alongside a number of other Muslims.
"Yet again this barbarism returns to our daily lives. I have the impression that it's a continuous cycle, that we are really struggling to exit," said one man. "That's why I wanted to be here, to show my solidarity and sadness in equal measure to the Christian community. Because we Muslims are also very much affected by this, as you know."
Another woman added:
"(I'm here) to show them that God is love and that, when faced with horrific events, God unites us. To attack innocent people, that's not even a war they're fighting because they target unarmed people."
Prophet Muhammad: "Do not kill the monks in the monasteries, and do not kill those sitting in places of worship." pic.twitter.com/WA2sfRSD8F

— ilmfeed (@IlmFeed) July 26, 2016