'Now it's Christians being attacked': concern at Catholic World Youth Day
Comments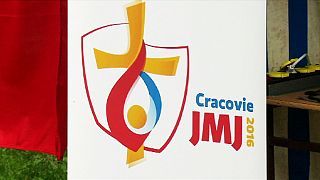 Young Catholics from all over the world have been gathering in Krakow for World Youth Day. They wil be joined in Poland by Pope Francis later on Wednesday.
Some inevitably became unnerved on hearing the news of the latest attack on French soil – this time on a Catholic church by fanatics who took hostages and murdered a priest, apparently using the name of Islam.
"We shouldn't allow ourselves to be carried away by hatred, by fear and by the desire for revenge. Because that's what they're looking for surely. You can imagine that they're trying to pitch us against each other, especially against the Muslim community," said the Archbishop of Marseille, Georges Pontier.
From Krakow the Archbishop of Rouen said news of the priest's murder and the other victims made him cry to God, imploring others to join him.
A young French participant added:
"It scares me even more, because before, the French were attacked, mainly it's been Jews being attacked, and now it's Christians who are being attacked… we can't be indifferent to the fact that it's Christians."
Security surrounding the event in the Polish city had already been tight. The country had put in place border controls in the run-up to an earlier NATO summit and World Youth Day.
Up to two million people are expected. The previous pope but one, John Paul the second, holds an iconic status in Poland, but many Catholics in the conservative nation are said to be concerned about calls by Pope Francis for a change in attitudes towards a more inclusive and merciful church.