First burials for victims of Kabul suicide attack
Comments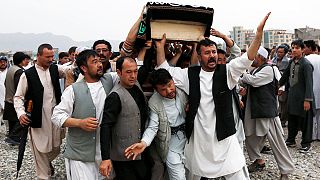 On a hillside to the west of Kabul, mourners dug out graves for their loved ones.
More than 80 people were killed and 200 injured in a suicide attack in the Afghan capital on Saturday. The twin bombing targeted a peaceful protest by members of the Hazara minority.
"We have lost many of our family and friends here," Jawad Rezayee told a reporter, "We have come here to bury our martyred and name the hill the martyred hill."
The grief of burial was also tinged with anger at the government. Some blamed the authorities for security failures which led to the devastating loss of life.
President Ashraf Ghani declared a day of mourning and ordered Dehmazang Square, where the attack took place, to be renamed Martyrs Square.
The attack was described as a 'war crime' by the UN mission in Afghanistan, and said those responsible would be held to account. It was claimed by the so-called Islamic State group. The militants have been stepping up attacks worldwide as they lose territory in Iraq and Syria.
It is the latest in a string of kidnappings and bombings in the capital, mostly at the hands of the Taliban.