Munich shooting: teenage German-Iranian believed to have acted alone
Comments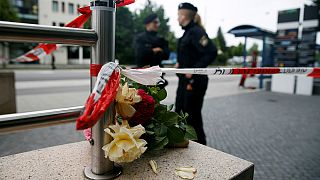 An 18-year-old German-Iranian is suspected to be behind a shooting rampage in Munich, opening fire in a busy shopping mall and killing at least nine people.
The motive and background, why he did it, are unknown right now

President, Bavarian Police
The suspected attacker, identified by police as a dual national, was later found dead near the Olympia shopping mall – having apparently shot himself in the head.
Police had initially said that they were looking for up to three suspects in the attack.
But officials later told the the media that they believed that the shooter was believed to have acted alone.
He is said to have opened fire at a fast food restaurant before moving to the shopping centre.
"On the basis of witness statements and after checking video material we are quite sure that this is indeed the suspect," said Hubertus Andrä, President of Bavarian Police, referring to the body that had been found.
"We do not have any leads or evidence suggesting there were additional suspects. The motive and background, why he did it, are unknown right now."
We found a man, who killed him himself.
We assume, that he was the only shooter. #gunfire#munich

— Polizei München (@PolizeiMuenchen) 22 July 2016
City in lockdown
Andrä also told reporters that sixteen people, including several children, were injured in the attack and three were in a critical condition.
As the shooting attack unfolded, authorities told the public to get off the streets of Munich, as the city went into a state of emergency.
Trams, trains and buses were stopped and highways were sealed off.
It was the third major act of violence against civilians in Western Europe in eight days.
A lone gunman killed 9 people before killing himself in an attack in Munich. What we know now: https://t.co/VXCwrcqkNL

— Wall Street Journal (@WSJ) 23 July 2016
An 'abhorrent act'
German Foreign Minister Frank-Walter Steinmeier confirmed that a motive for the attack was not yet clear.
"The motives for this abhorrent act have not been completely clarified. We still have contradictory clues," he said in a statement.
Friday's attack took place a week after a 17-year-old asylum seeker assaulted passengers on a German train with an axe. Bavarian police shot the teenager dead.
FM #Steinmeier: Horrified, thinking of the people in #Munich. It's good to know that we have our friends in #Europe+the world behind us.#OEZ

— GermanForeignOffice (@GermanyDiplo) 22 July 2016
Global reaction
Deeply shocked & saddened by #Munich shootings. My thoughts are w/ the victims, their loved ones & all #Germany at this time

— Boris Johnson (@BorisJohnson) 22 July 2016
.StateDeptSpox</a>: We are in close contact with German officials and stand ready to provide any assistance requested. <a href="https://t.co/FDKlTewvpo">https://t.co/FDKlTewvpo</a></p>&mdash; Department of State (StateDept) 22 July 2016
Another attack, this time in Germany. Many killed. God bless the people of Munich.

— Donald J. Trump (@realDonaldTrump) 22 July 2016
Live updates
Munich Transport Authorities say they have halted service on multiple train, tram and bus lines and the German rail operator said the main railway station in Munich has been evacuated.