Amateur video shows Munich gunman at mall
Comments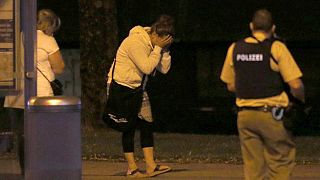 Ten dead, including gunman
At least ten wounded
Police give the all-clear
I heard people screaming and I thought, 'What's going on?'
Police in Munich have given a cautious "all-clear", more than seven hours after a gunman opened fire in a crowded shopping mall.
Nine people died and at least 10 others were wounded in a shooting rampage the authorities have described as an " act of terrorism".
The gunman also died during the course of the attack, bringing the total number of dead to 10. Officials say he appears to have acted alone.
Amateur video
Amateur video obtained by the Associated Press agency appears to show the suspected gunman opening fire on passers-by outside the Olympia shopping mall.
Video 'shows #Munich gunman opening fire' https://t.co/JsTm8JiRu3pic.twitter.com/qMS8EIokLl

—

ITV

News (@itvnews) July 22, 2016
The city, which is Germany's third-largest, went into lockdown as shots began to ring out.
Locals were told to stay indoors.
Motive not clear
Police are looking for a motive for the attack. A spokesman for Chancellor Angela Merkel would neither confirm nor deny a link to terrorism.
'Too early' to say if Munich shooting was terror attack or 'rampage', police chief says https://t.co/y3r0dHpR8qpic.twitter.com/dg9UhtFX6f

—

ITV

News (@itvnews) July 23, 2016
Fact Check
Munich is the capital of the state of Bavaria
It is Germany's third-biggest city
Public transport was suspended and highways sealed off during the alert
The attack is the third against civilians in Western Europe in eight days

What they are saying


"I heard several shots, four or five, and screams. At first I didn't react, not until the second time, I thought it could be fireworks. Then I heard another four or five shots, went out on to the balcony and I saw that somebody was running around there on the parking level with a handgun and shouting. Then I heard people screaming and I thought 'what's going on?", an eyewitness told the media.