Munich killer no links to any terrorist organisation
Comments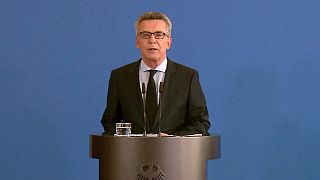 The teenage killer who murdered nine people in Munich and then turned the gun on himself was a loner obsessed with mass murder.
Police found a Glock pistol and 300 bullets in his rucksack.
Observer front page:
Munich killer was bullied loner who had an obsession with mass murder#tomorrowspaperstodaypic.twitter.com/wtGIYdhrcH

— Nick Sutton (@suttonnick) July 23, 2016
He has been named locally as David Ali Sonboly.
Seven of the dead were teenagers. Three of the victims were from Kosovo, three from Turkey and one from Greece.
The German Interior Minister Thomas de Maiziere visited the Olympia shopping centre the scene of the shootings, the interior minister said the killer was unknown to intelligence services: "Concerning the motive of this deed, there are no conclusive findings yet.However, we do know that at his apartment, material was seized indicating that he was interested in rampages. So far, there are no clues linking this crime with international terrorism."
Authorities say that 27 people have been injured and ten are in a serious condition, including a 13-year-old-boy.
What we know and what we don't about the shootings in Munich https://t.co/QkJQstC8OApic.twitter.com/npEsp8KlDi

— New York Times World (@nytimesworld) July 23, 2016
Investigators have revealed that the young man had been in psychiatric care and was undergoing treatment for depression.