Armenia: gunmen storm police station in Yerevan
Comments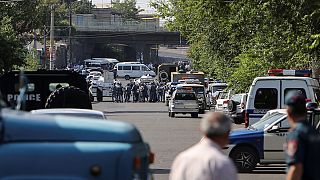 In Armenia, gunmen have seized a police station in the capital Yerevan taking hostages, including the country's police chief.
At least one person has reportedly been killed and several wounded.
The armed group has demanded the release of political prisoners.
That includes Jirair Sefilian, who has strongly criticised Armenia's President Serzh Sargsyan, notably over his handling of the conflict in the Nagorno-Karabakh region.
Security services have said negotiations with the armed group, which calls itself the Daredevils of Sassoun, are underway, while the police station remains under siege.
Releasing an online video the group also demanded Armenians take to the streets.