May and Merkel in first face-to-face talks in Berlin
Comments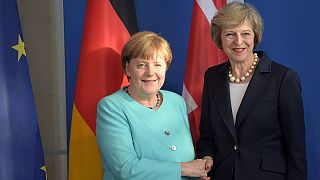 Britain's new Prime Minister Theresa May has arrived in Berlin for her first face-to-face talks with German Chancellor Angela Merkel.
The two leaders were set to discuss Brexit, security, the refugee crisis and Turkey's political situation.
Both leaders said that they want to remain close friends after the pending divorce.
"I would like to stress once again that independently from the decision that people in the UK have made to leave the EU, there are strong ties and a strong partnership and friendship between Germany and UK," Merkel told reporters.
After saying thank you in German, May commented:
"Of course the nature of our relationship is going to change as the UK leaves the EU. But we both want to maintain the closest possible economic relationship between our countries. And I believe that is what German and British businesses want too.
"So it's good that we start from such a strong foundation and a position where both our countries believe in liberal markets and free trade. And these should be the principles that guide us in the discussions ahead."
Theresa May arrived in Berlin fresh from Prime Minister's Questions in London.
She got a grilling as Britain revealed that it will give up its pending presidency of the European Council – due to start this time next year – as it figures out its Brexit strategy.
May is due to meet French President Francois Hollande on Thursday.