Fleeing Turkish soldiers apply for political asylum
Comments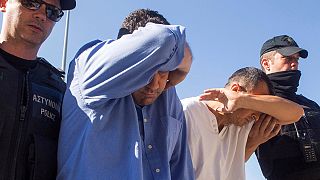 Seven Turkish soldiers and one civilian who fled to Greece in an army helicopter following the failed military coup have been accused of entering the country illegally. Appearing before a Greek court they asked for political asylum although Ankara has said it wants the "traitors" extradited soon.
Fleeing Turkish soldiers appear before Greek prosecutor https://t.co/iEXteaZQqbpic.twitter.com/XBhlqNByO3

— Reuters Top News (@Reuters) July 17, 2016
euronews spoke to their lawyer Ilia Marinaki :
"They've told me that they fear for their lives. They want asylum in an E.U. country, Greece in particular, because they are afraid to return to Turkey and also they feel more secure here.
They talked to their families this afternoon and they are fine back home and there is no one is threatening them.
They claim that they didn't know about the ongoing coup. They were ordered to convey wounded people and while they were doing that they came under fire by the police. During that time they found out vis their mobiles that a coup was taking place. So they got scared and fled."
In a phone call, Prime Minister Alexis Tsipras told Turkish President Recep Tayyip Erdogan the requests would be processed "swiftly" but with "absolute respect" to what is stipulated by international law and human rights treaties.
His foreign minister, Nikos Kotzias, told his Turkish counterpart it would be "borne very seriously in mind" by authorities that the arrested stand accused in their country of violating constitutional legality and attempting to overthrow democracy.