Baton Rouge gunman was ex-marine who served in Iraq
Comments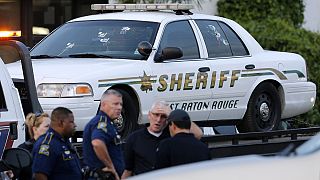 The gunman who killed three American policemen and wounded three others in Louisiana has been identified as a former US marine sergeant who had served in Iraq.
Gavin Long – 29-year-old according to media reports – died in the shootout. According to his military record, released by the Pentagon, he served in the Marines from 2005 to 2010. Listed as a data network specialist, he was deployed to Iraq from June 2008 to January 2009, earning several medals and commendations.
He was from Kansas in Missouri, where police have been seen making arrests in an area where local media said he lived.
He had apparently complained about the treatment of African-Americans by police, calling for retaliation.
The three officers killed in Baton Rouge have been named as sheriff's deputy Brad Garafola, 45, Montrell Jackson, 32, and Matthew Gerald, 41. All had families.
It is believed they were lured to their deaths by a bogus emergency call.
Sunday's bloodshed followed days of unrest over the recent police killings of two black men.
President Obama reacted to the shootings in a televised address. Only days after paying tribute to five police officers shot dead in Dallas, has urged Americans to focus on words and actions that unite rather than divide the country.
Louisiana's governor has called the shootings an "unspeakable, heinous attack" that served no purpose.