Mass rallies across Turkey to celebrate quashing of coup attempt
Comments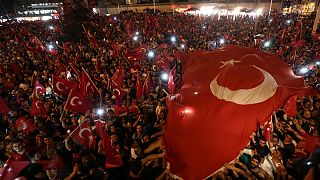 Thousands of rejoicing Turks filled Istanbul's Taksim Square on Saturday evening, less than 24 hours after a failed coup by a faction of the Turkish military.
In cities across Turkey, huge crowds of supporters of President Recep Tayyip Erdogan celebrated the quashing of the coup attempt.
A festive atmosphere at #Taksim as people play music and rejoice the #failedcouphttps://t.co/K9Sx5xKPMG

—

TRT

World (@trtworld) 16 juillet 2016
Taksim Square now. People are holding main squares. pic.twitter.com/KaTOYqDZqM

— Bora Bayraktar (@Bora_Bayraktar) 16 juillet 2016
Two hundred and sixty-five people were killed as violence gripped Ankara and Istanbul on Friday night.
Officials said that of this total, 161 were police and civilians and 104 were people involved in the coup attempt.
Close to 3,000 soldiers, including some top military commanders, have been arrested as part of the government crackdown on those that took part.
It is not clear who was behind the plot to oust the government.
President Erdogan has accused US-based cleric Fethullah Gulen of orchestrating the plan.