The day after the night before - rubble and recriminations in Ankara after failed coup
Comments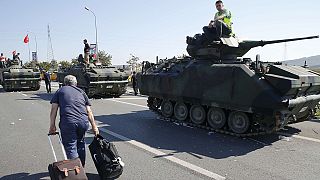 In the Turkish capital Ankara, the rubble of damaged buildings and the wreckage of shot up vehicles lined the streets near the parliament complex a day after Friday night's failed military coup.
Over the course of a dramatic and bloody night, explosions ripped through Ankara and Istanbul as tanks lined the streets, the Turkish military chief was held hostage, a helicopter was shot down and TV stations were raided by soldiers.
PHOTOS: Turkish parliament building as dawn breaks in the Turkish capital of #Ankara – arabthomness</a> <a href="https://t.co/trYhiSWEsE">pic.twitter.com/trYhiSWEsE</a></p>&mdash; Conflict News (Conflicts) 16 juillet 2016
The uprising began when a rebel army faction, calling itself the Turkish Peace Council, took control of one of the Bosphorus bridges in Istanbul.
Soldiers then stormed the offices of state broadcaster TRT, airing a statement saying that the Turkish Peace Council had taken control of the country and was imposing martial law and a curfew.
But the coup attempt was quickly crushed as Turkish President Recep Tayyip Erdogan mobilised his forces, and called on citizens to take to the streets to rally in support the government.
[no comment] Supporters of the Turkish president take to the streets to show their fury against #TurkeyCoupAttempthttps://t.co/4nCChgSGLr

— euronews (@euronews) July 16, 2016