Theresa May officially takes over as UK Prime Minister
Comments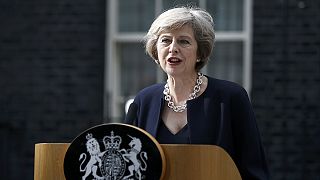 After meeting with the Queen, Theresa May can place her feet firmly under the desk at No 10 Downing Street as Prime Minister of Great Britain. She now faces the daunting task of leading the country out of the European Union.
In her first speech she promised 'not to govern for the privileged few' and to unite Britain. A clear message to the First Minister of Scotland who has been threatening a second independence vote. Nicola Sturgeon took to Twitter to congratulate May, saying she hoped to build a 'constructive working relationship' despite their differences.
Congratulations to the new Prime Minister theresa_may</a> - despite our differences, I hope we can build a constructive working relationship</p>&mdash; Nicola Sturgeon (NicolaSturgeon) July 13, 2016
Addressing the EU referendum vote, May said the country faced 'a time of great national change' adding Great Britain would rise to the challenge and 'forge a positive road for ourselves in the world.'
Into number ten so far… Hammond, then Boris Johnson

— Laura Kuenssberg (@bbclaurak) July 13, 2016
Now all eyes will turn to the composition of her cabinet. There are suggestions half of the positions could go to women. A key post will be the secretary of state for the so-called Brexit department. She has until October 20 to polish off her negotiating stance before facing EU heads of state and government at her first summit as leader of the UK, a country with its future outside of the union.