Italian PM calls for full investigation into head-on rail collision
Comments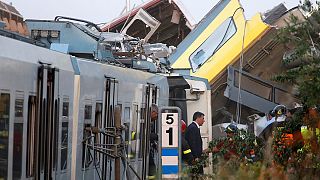 Italian PM calls for full investigation into train disaster
Death toll rises to at least 27
"Human error a factor"
Italian Prime Minister Matteo Renzi has demanded a full investigation into Tuesday's head-on train collision in which at least 27 people were killed and over 50 others injured.
It looks like there has been a plane crash

Mayor of Corato
Renzi was quickly on the scene in southern Italy as emergency services frantically tried to free passengers from the shattered carriages.
"The Bible says that there is a time for everything. This is a time to cry, to show support to the families, to show humanity in the face of pain. In the days to come, clearly we will not stop until we know what happened – to demand the truth and to apportion responsibility,"said an emotional Renzi.
The collision happened just before midday. Passengers in the front carriages didn't stand a chance.
Italy train crash death toll rises to at least 25 with 50 injured – https://t.co/LZI4AXcbNb

— The Irish Times (@IrishTimes) July 12, 2016
A dozen dead as two trains collide in Puglia (Apulia) in southern Italy. Third fatal #rail crash in Europe this yearhttps://t.co/s7GVHWH5zv

— Total Crime (@totalcrime) July 12, 2016
The two trains were travelling on the same track linking the towns of Corato and Andria in the southeastern region of Puglia.
Wreckage was spewed into nearby olive groves. The Mayor of Corata compared the scene to a plane crash
A child of about six-years-old was the first to be rescued. One train driver is reported to have survived, although badly injured.
One passenger described what happened to him:
" I was listening to music and suddenly I realised I was on the ground and I couldn't move. The controller was there with me and he couldn't stand up either, so we had to wait for someone to come."
There has been no immediate indication as to the cause of the disaster. A local prosecutor said to the media it was too early to speculate although human error was likely to have been a factor.
The stretch of track is operated by a small, private rail company Ferrotramviaria. Italian media said the European Union had earmarked funds to build a second track along the route but that the work had been delayed.
The last major rail disaster in Italy was in 2009 when a freight train derailed in Viareggio, in the centre of the country, and more than 30 people living close to the tracks died in the subsequent fire.