'We must find out cause' of fatal Italy train collision, says Renzi
Comments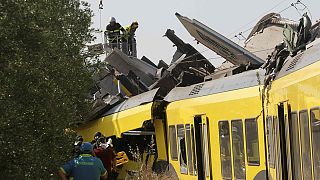 Italian authorities say 20 people died and dozens were injured when two passenger trains collided head on in the Puglia region in the south of the country.
Now is the time for emotion and tears

Italian Prime Minister
The force of the impact sent debris and wrecked carriages into an olive grove alongside the single stretch of track in the countryside.
The trains, each with four carriages, were heading
in opposite directions between the towns of Corato and Andria, west of Bari. It wasn't immediately clear what caused the two trains to be travelling on the same line.
The transport ministry said it was sending two investigators to the region. The prime minister was also expected in the area after cutting short a trip to Milan.
"We must find out – and there'll be no holding back – who is responsible for what happened, I think absolute clarity must be made on this, we will not stop until we understand what happened. Now is the time for emotion and tears," Matteo Renzi said.
The fire service said the rescue effort was complicated because the collision happened in the middle of the countryside.
Emergency workers tried to free people from the wreckage. A small child was taken to hospital by helicopter.
"I saw my mother on the ground, my father and my sister bleeding…The people who were on the train helped us," said one woman who was on the train, confirming that she was eight months pregnant.
While the injured were treated in the summer heat at the scene and taken to local hospitals, the authorities appealed for doctors and blood donations.
The mystery behind Italy's worst rail disaster for seven years is why – on a well-used line – the two trains were travelling in opposite directions at the same time.