Twenty dead and more injured as passenger trains collide in southern Italy
Comments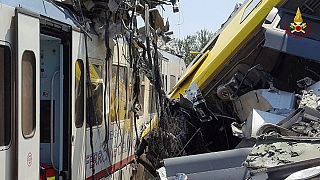 Reports from Italy say at least 20 people have died, and more have been injured, after two passenger trains collided in the Puglia region in the south of the country.
The reported figures come from a regional official and the fire brigade.
The first pictures of the scene show that the crash happened on a single stretch of track in the countryside.
Emergency services have been trying to free people from the wreckage. One of those freed is said to be a small child who has been taken to hospital by helicopter.
Italian Prime Minister Matteo Renzi interrupted a trip to Milan and returned to Rome, describing the crash as a "moment of tears". He is expected to travel to Puglia later in the day.
The trains were travelling in opposite directions reportedly between the towns of Corato and Andria, west of Bari.
The Italian news agency ANSA said many of the injured had been taken to local hospitals. The crash is stretching local services with police asking for doctors and blood donations.
(Video: news24.city)
Both trains were made up of four carriages. The pictures show the extent of the damage caused by the head-on crash – with debris spread out on either side of the track.
It's not known what caused the accident, which happened at around 1130 on Tuesday morning local time apparently in good weather.
The line is reportedly managed by the regional public transport company Ferrotramviaria.
Thousands of people use the line every day and work is said to be underway to create a double-track line.
The last major rail disaster in Italy was in 2009, when a freight train derailed in Viareggio, in the centre of the country. More than 30 people living close to the tracks were killed in a fire caused by the crash.
In #2016 this is simply not acceptable! Tears for #Puglia, #Unbelievablepic.twitter.com/N4fai6EbUR

— Moro (@Moro_e_Franco) July 12, 2016