Beijing says its sovereignty over the South China Sea won't be affected
Comments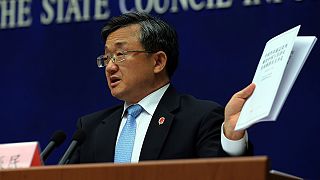 Beijing has told the European Union its sovereignty over the South China Sea will not be affected despite Tuesday's ruling (July 12) in The Hague dismissing China's territorial claims in the expanse.
Vice Foreign Minister Liu Zhenmin said:
"As for whether China will declare an air defence identification zone (ADIZ) in the South China Sea, first of all we must make it clear that China has the right to do so."
That is, if the threat level is deemed high enough, he said.
It comes as EU Foreign Policy Chief Federica Mogherini told an audience in the Chinese capital that the bloc does not have a position on the issue.
Also speaking from Beijing, European Council Chief Donald Tusk said he has full confidence in the arbitration court, adding that Europe would carry on backing international law.
A number of neighbouring countries have ongoing disputes with China over the sea, which is rich in energy, minerals and fishing resources.
The Philippines brought the case to The Hague. While Beijing maintains it will ignore the ruling, Liu said there are hopes of relaunching bilateral talks with Manila over the South Sea China.