Syrian rebels prepare for Aleppo siege
Comments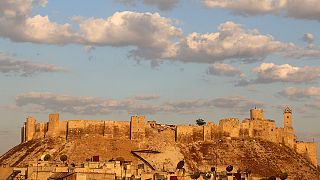 Syrian government troops say they are moving in against rebel held positions in the Syrian city of Aleppo.
The offensive comes only hours after announcing the extension of a nationwide truce for three days.
On Monday, the Syrian armed forces said it would "extend the freeze on fighting on all Syrian territory for 72 hours beginning at 00.01 on 12 July".
It was the second extension to a truce first announced last week to mark Eid al-Fitr, the end of the Islamic holy month of Ramadan.
But the ceasefire has produced little respite in fighting, with rebels having fired a barrage of missiles into the government-held western side of Aleppo, killing dozens of civilians.
The advance by its troops brings Damascus closer to achieving its long-held aim of containing the city which is a major symbol of the uprising against President Bashar al-Assad, now in it's sixth year.
In response, rebels in Aleppo claim to have stockpiled enough basic supplies to survive months of siege.
The United Nations says it is deeply concerned about the increased fighting and has called for humanitarian aid access.
French Foreign Minister Jean-Marc Ayrault, whose visiting neighbouring Lebanon condemned the flouting of ceasefire attempts.
"It's a situation of absolute emergency. A ceasefire has to happen for the United Nations special envoy to Syria Mr de Mistura to do his job, today he's not able to. Our objective is clear, there won't be a military solution in Syria, there can only be a political solution. We have to reinforce our cooperation with all the parties that can contribute to it."
Elsewhere in Syria an air strike at an Idlib field hospital has left three dead including a child. A Canadian charity, the UOSSM said al-Shefaa hospital was providing services to locals, many of whom are internally displaced Syrians escaping other areas of the country.
It's not clear who was conducting air strikes in the area at the time.