Iran: thousands mourn film director Abbas Kiarostami
Comments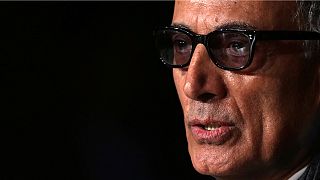 Thousands of people in Iran have attended the funeral of acclaimed director Abbas Kiarostami.
The 76-year-old Iranian filmmaker died last week in Paris, following a period of ill health.
Renowned for his ambiguity and mixing fictional and documentary elements, fans paid tribute to Kiarostami during a ceremony in Tehran.
"To me and all the people here, Abbas Kiarostami was one of the greatest directors in the world. He promoted Iran in both photography and filmmaking," said one woman
"He faced obstacles, of course it does not mean that he was not allowed to make movies in Iran or get a production permit, but he wouldn't work in Iran and people would follow news about him from outside the country. His death means a lot to people,'' said another man.
Kiarostami gained worldwide popularity during the 1990s, winning the prestigious Palme D'or at the Cannes Film Festival for his movie, 'Taste of the Cherry.''