British PM hopeful's motherhood remarks spark row
Comments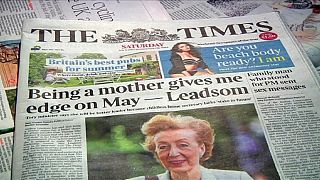 The outsider to become UK's next Prime Minister, Andrea Leadsom, has furiously denied she has an edge over her rival, because she has children.
Speaking to the media at her home the mother of three, who backed Brexit, denounced the London Times, after it quoted her as saying, having children meant she had ''a very real stake'' in Britain's future.
"I was repeatedly asked about my children and I repeatedly made it clear that I did not want this to be in any way a feature of the campaign. I am disgusted at the way this has been presented. I want to be crystal clear that everyone has an equal stake in our society and in the future of our country," Leadsom said.
The Times has defended the article, publishing a transcript of the interview.
Rival Tory leadership contender, Theresa May, who is favourite to win the contest and has no children, refused to comment.
She chose instead to invite Leadsom to join her as she launched her ''Clean Campaign'' pledge.
The row comes as Britain's opposition Labour party also continues to be engulfed by a bitter internal crisis, after former shadow Business secretary Angela Eagle said she would challenge Jeremy Corbyn for the leadership.