Nighttime Baghdad bombings kill and wound hundreds celebrating Ramadan
Comments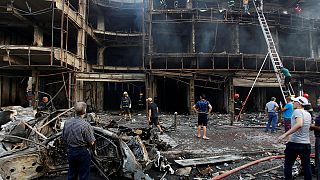 At least 120 people were killed and scores wounded when two nighttime bombings ripped through Baghdad on Sunday (July 3), when the streets were filled with families celebrating Ramadan.
The self-styled Islamic State militant group claimed responsibility for what it said was a suicide bombing. The attack comes just a week after it lost control of the nearby city of Fallujah to government forces and is the deadliest in the Iraqi capital so far this year.
The toll rose quickly on Sunday. At least 25 children were said to have been killed, and more than 150 people wounded.
Photo gallery: Aftermath of ISIS attack in #Baghdadhttps://t.co/4hggvBKS8x

— Al Arabiya English (@AlArabiya_Eng) July 3, 2016
Busy shopping district
Horror spread through Baghdad around midnight, when a refrigerator truck packed with explosives blew up in the busy shopping district of Karrada, sparking a massive blaze.
Shortly after, a roadside bomb went off in a popular market in al-Shaab, a Shi'ite district in the north of the capital.
Videos on Instagram show a massive blaze spanning the street. #Baghdadpic.twitter.com/qydO2NqKpQ

— Alejandro Alvarez (@aletweetsnews) July 2, 2016
PM's convoy pelted with stones
Prime Minister Haider al-Abadi went to the scene of the blasts, which ravaged several buildings.
His convoy was reportedly pelted with stones and bottles by residents angry about what they felt were false promises of better security.
#Baghdad citizens attacking #Iraqi premier Haider Abadi's convoy while visiting #Karada bombing site. pic.twitter.com/iscIwO59fI

— Barzan Sadiq (@BarzanSadiq) July 3, 2016