The National Liberation Army fails to follow in the footsteps of FARC rebels and lay down arms
Comments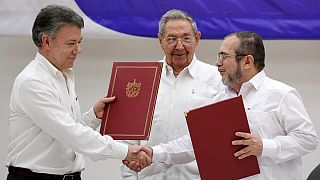 The National Liberation Army, known as the ELN is one of many 20th century Latin American guerrilla movements inspired by Marxist ideology and the success of the 1959 Cuban revolution.
The militants are seen as the last big obstacle in bringing to an end the war in Colombia that has been waged for over five decades.
They took part in a secret dialogue with the government at the end of March but have refused a unilateral gesture which President Juan Manuel Santos requires for a peace agreement.
In May the ELN kidnapped three journalists and held them for several days. The action served to exacerbate public opposition against them. The kidnappings also turned the spotlight on the rebels who could now become the main target of the Colombian army.
That's because the FARC rebel group has taken an historic step by signing an agreement to lay down their arms and demobilise into 23 temporary zones and eight camps.
Although the ceasefire will only come into effect when the final deal is agreed – which is scheduled to be signed on July 20 the two sides effectively stopped attacks almost a year ago.
The group is by far the largest internal military opponent of the Colombian state.
The signing sparked celebrations in Bogota where almost 1,000 gathered in the city's main square. Giant TV screens were erected to allow people to watch the historic moment as church bells rang out.
But many acknowledged that there is still some way to go.
"Until today I had never heard a single word regarding the political decision for peace. I am very happy and I would like to think that the National Liberation Army will also take part because Columbia deserves a more just country and a country that lives in peace," Human Rights and Peace Activist Gloria Cuartas said.
The FARC rebel uprising was also inspired by the success of the 1959 Cuban revolution. It began as a peasant revolt before exploding into a cocaine-fueled war that killed at least 220,000 and displaced millions.
While other groups were quashed or convinced to join conventional politics FARC went on to wage the Western Hemisphere's longest running war.