Russian and Turkish foreign ministers meet in Sochi
Comments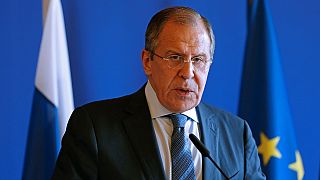 The foreign ministers of Russia and Turkey have met in Sochi.
The meeting in the Russian Black Sea resort was between Turkish Foreign Minister Mevlut Cavusoglu and his Russian counterpart, Sergei Lavrov.
It is part of a drive to boost the normalisation of bilateral ties.
The two ministers also held private talks.
They last met in December in Belgrade during an Organisation for Security and Cooperation in Europe (OSCE) meeting.
What Russia says
Joint work between Russia and Turkey on fighting terrorism is taking on additional importance now that relations between the two nations are being normalised said the RIA news agency, quoting Russian Foreign Minister Sergei Lavrov.
Lavrov also says he hopes for contacts between the Russian and Turkish military on Syria.
The Russian foreign minister also says he stressed in talks with Cavusoglu that Turkish terroritory should not be used by terrorists fighting in Syria.
Sergei Lavrov also said Turkey's foreign minister pledged that all measures will be taken to ensure the security of tourists.
What Turkey says
Turkey and Russia should work together for a political solution to the Syria crisis, says the RIA news agency, quoting Turkish Foreign Minister Mevlut Cavusoglu.
RIA also quoted the Turkish Foreign Minister as saying his country is a target for terrorists as it is fighting directly with ISIL.
In remarks made to the media before the meeting, Cavusoglu described Turkish President Recep Tayyip Erdogan's letter and subsequent phone call to Russian President Vladimir Putin as "positive".
"We have been ordered to follow topics discussed during conversations between the two presidents in order to take the relations on a desired level," he is quoted as saying by the Anadolu agency.
Cavusoglu also said Russian President Vladimir Putin and Turkey's Recep Tayyip Erdogan could meet in August in Sochi.
Why have relations been strained?
Relations between Moscow and Ankara have been under strain since November last year.
Turkey shot down a Russian Su-14 war plane near its border with Syria.
The timeline of the thaw
Turkish President Recep Tayyip Erdogan sends a letter to Russian President Vladimir Putin expressing regret and condolences for the November 2015 downing of the Russian bomber.
The two leaders spoke by telephone for the first time in more than seven months.
Putin ordered the lifting of tourism restrictions on Turkey.
Foreign ministers from each country meet in the Russian Black Sea resort of Sochi.