Afghanistan: at least 30 die in twin suicide blasts
Comments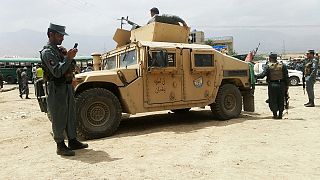 Afghan officials say two Taliban suicide bombers have killed at least 30 people and injured 58 in an attack near the capital, Kabul.
My clothes were full of blood.

Local resident
The blasts targeted a convoy of buses carrying newly-graduated police cadets from neighbouring Wardak province to Kabul. One of the attackers was on foot and the other in a car, according to the Minister of the Interior.
Local resident Mohammad Dawood heard the explosions.
"I heard a small bang first, when I walked out of my home I heard a second, then I rushed to the area. I personally evacuated around 40 to 45 causalities from one bus. Other people helped me. My clothes were full of blood and I went to take shower," he explained.
The incident comes 10 days after an attack on another bus in Kabul, in which 14 people were killed. It was carrying Nepali security guards working for the Canadian embassy.