Arrests in Turkey after Ataturk Airport atrocity
Comments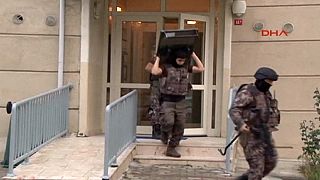 Police raids
Turkish police have raided more than a dozen suspected ISIL
cells in the cities of Istanbul and Izmir.
Special forces and counter- terrorism officers were involved in the operations, which are linked to Tuesday's triple suicide bombing at Ataturk Airport.
Istanbul
Turkey's Anadolu agency says:
Neighbourhoods of Pendik, Basaksehir and Sultanbeyli targeted
13 arrested, including three foreign nationals
The Turkish authorities have said they think at least one of the airport bombers may have been a foreigner.
Izmir
Four districts targeted
Nine arrested on suspicion of financing, recruiting and providing logistical support to

ISIL

.

What happened at Ataturk Airport?
At least 43 people were killed in a triple gun and suicide bomb attack in Istanbul's main airport on Tuesday evening.
Scores were injured.
The Turkish authorities and US officials believe ISIL was responsible for the attack.
Turkey is part of the US-led coalition against ISIL in neighbouring Syria.
It is also tackling an insurgency in its mainly Kurdish south-east.