Atatürk Airport attack - why did it happen?
Comments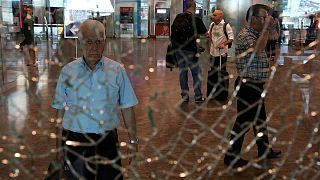 Gizem Adal, euronews: "Yesterday evening, Turkey was struck by an extremist attack, this time targeting İstanbul's Atatürk Airport. We are going to get the latest developments now from Euronews' İstanbul Correspondent Bora Bayraktar.
Turkish PM Binali Yildirim: "This attack is a vile, planned terrorist act." https://t.co/79a83DUheKpic.twitter.com/puYIi53LH7

— Business Insider (@businessinsider) June 29, 2016
Gizem Adal, euronews: "The Turkish Prime Minister, Binali Yıldırım, has defended security measures at İstanbul's Atatürk Airport. But how come these three suicide bombers could get into the airport? Both passengers and their relatives undergo a full security search so how could they bring in a Kalashnikov?"
Bora Bayraktar, euronews İstanbul Correspondent: : "Just behind me you can see the entrance to the airport. This is the main entrance to the airport, you can see the place where cars are coming in."
"There is a police check point here. Police look at the vehicles that arrive here and let them inside unless there is something suspicious about them. If there isn't, then it is another 500 to 600 metres to the departure terminal of the airport."
"The attackers probably came in this way via taxi and got to the site of the second security check. They tried to get through this check-point but they had their jackets on. It is very hot in İstanbul so the police were immediately suspicious, the attackers ran in and shooting began."
Ban Ki-moon welcomes Israel's restoration of a full diplomatic relationship with Turkey https://t.co/mupBuWbGWxpic.twitter.com/T1BI4Td4Ui

— UN Spokesperson (@UN_Spokesperson) June 28, 2016
euronews: The militant organisation ISIL recently declared that they are against the deal Turkey made with Israel in order to normalise relations between the two countries. Is the attack linked to this?
Bora Bayraktar: "This was a very sophisticated and complex attack. However the statement about relations between Turkey and Israel was a made only a few days ago."
"It is clear a lot of preparatory work went into this attack. ISIL has a much broader strategy against Turkey than simply reacting to news of the normalisation of the relations with Israel."
"This year ISIL has carried out 4 attacks in Turkey. The group is targeting Turkey because it is a member of the coalition that is fighting against ISIL."
"It is also the second anniversary of ISIL's declaration of its so- called caliphate. Tuesday's attack could be linked to this as well. It has to be said that Turkey has also pursued a campaign of domestic operations against ISIL."
euronews: "Thank you very much, Bora."