Dozens are killed and wounded in multiple suicide bomb attacks on Istanbul's Ataturk airport
Comments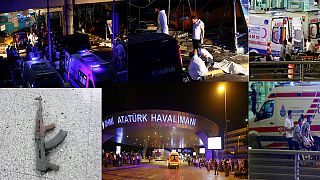 It's feared as many as 50 people may have been killed and another 60 wounded in suicide and gun attacks on Istanbul airport.
UP to three suicide bombers opened fire before blowing themselves up in a deadly attack on Istanbul's main Ataturk airport, a Turkish official has said.
Reports from Turkey suggest police shot dead two other attackers.
The explosions are said to have taken place at the main entrance to the international airport which is Europe's third busiest.
Euronews correspondent Bora Bayraktar is on the scene.
Terror attack in Istanbul Ataturk airport

— Bora Bayraktar (@Bora_Bayraktar) June 28, 2016
One of the assailants is said to have opened fire with a Kalashnikov rifle. Reports vary on the exact number of attackers.
A Turkish official says the explosives were detonated just before the security checkpoint in the international terminal.
HaberTurk reports the police fired shots in an effort to neutralise the situation.
Ambulances could be seen rushing from the scene and reports suggest some of those wounded were also transferred to hospital by taxi.
Some flights to Ataturk airport have been diverted in light of the attack. An official added it was not clear which flights these would include on Wednesday morning.
Other flights will be allowed to land until 21.10 GMT.
Initial indications suggest ISIL militants are behind the attack reports Turkey's Dogan News Agency.