European Union leaders speak with one voice over Istanbul airport attacks
Comments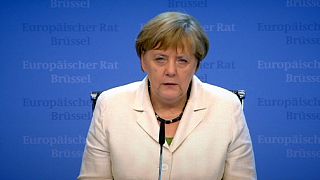 There has been swift condemnation and words of solidarity from European leaders on learning of the terror attacks on Istanbul's international airport.
Chancellor Merkel and her counterparts were speaking from their first post Brexit meeting in Brussels.
"I want to say to all of the Turkish people that we consider ourselves united with them in the fight against terror."
With France's own recent terror attacks still raw, President Hollande was mindful of the need to re-enforce the fight against terror.
"We must act, that's what we are also doing in Europe and France, and coordinate further our security services and carry out as much as possible the necessary actions against terrorism and trafficking."
EU-president Tusk begint met condoleances #Istanbul. pic.twitter.com/Qyz4OjxRNc

— Fons Lambie (@fonslambie) June 28, 2016
European Council President Donald Tuck focused on the victims and their families.
"Let me express my deepest condolences to the families and loved ones of the victims of tonight's attacks in Ataturk International Airport in Istanbul. In times like these we should all be united."
Turkey has suffered a spate of bombings this year, including two suicide attacks in tourist areas of Istanbul blamed on ISIL, and two car bombings in the capital, Ankara, which were claimed by a Kurdish militant group.
The country, which is part of the US-led coalition against ISIL, is also fighting Kurdish militants in its largely Kurdish southeast.