Turkey mourns as the first funeral takes place of a victim from the Istanbul airport attack
Comments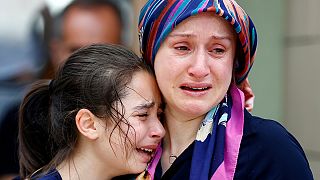 Death toll rises to 42 in Istanbul airport attack
First funerals take place of victims

ISIL

blamed for suicide bombings
Turkey's government is convinced ISIL militants were behind Tuesday's triple suicide bombing on Istanbul's main airport. As it observed a day of national mourning for the victims, the message from its leadership was one of defiance against terrorism.
I have no doubt that we will overcome terror, terrorist organizations, and terrorist attacks

Turkish President
It's now believed 42 people were killed and over 200 wounded in the attack.
On Wednesday the first of many funerals took place. Twenty-five year-old Muhammed Eymen Demirci was working as a ground servicing employee when the attack happened.
Most of the victims were Turkish nationals although at least 10 were foreigners and several people are still unidentified.
Meanwhile Turkey's President Recep Tayyip Erdogan has said the attack should serve as a turning point in the global battle against terrorism.
"Turkey, as the target of the most brutal terrorist groups, is being tested. I have no doubt that we will overcome terror, terrorist organizations, and terrorist attacks."
But not everyone believes the government is doing enough to protect them. Carrying banners saying they do not feel safe about 200 hundred people staged a demonstration in Istanbul.
Turkey has been the target of more than a dozen attacks in the last year carried out by Kurdish militants or ISIL extremists.
Turkey is part of a US-led military coalition against Islamic State and home to around 3 million refugees from the five-year civil war in neighbouring Syria.
ISIL has established a self-declared caliphate on swathes of both Syria and Iraq and declared war on all non-Muslims and all Muslims who do not accept its ultra-hardline vision of Sunni Islam. It has claimed responsibility for similar bombing and gun attacks in Belgium and France in the past year.
On social media there has been a show of solidarity with Turkey and other countries which have been victims of terror attacks.
People are sharing these images in solidarity with Turkey https://t.co/cf4pES3Use

— The Independent (@Independent) June 29, 2016
I'm so heartbroken to hear about the attack in Istanbul, Turkey. This image is so sad, but so true. pic.twitter.com/kcPNVXsuCy

— Protest Pictures (@ProtestPics) June 29, 2016