UK: Labour leader Jeremy Corbyn loses confidence vote in wake of Brexit vote
Comments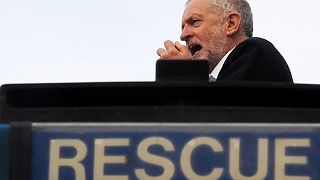 Leader of the UK's opposition Labour Party Jeremy Corbyn has lost a confidence vote called by his MPs in the aftermath of the EU referendum result.
The motion of no confidence was passed by a majority of 172-40, but is not binding.
It does not trigger a leadership election within the party; the Labour leader's allies have said the only way to challenge Corbyn is through a formal leadership contest.
Prior to the motion, Corbyn said he would not resign, even if a leadership race was on the cards.
It follows the resignation of the majority of Corbyn's shadow cabinet and a number of his aides in the wake of the UK's historic decision to leave the EU. Labour as a party was overwhelmingly in favour of remaining in the bloc.