London needs greater autonomy after Brexit vote, mayor says
Comments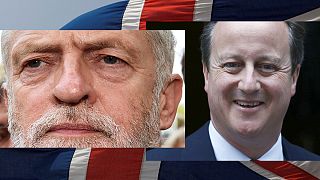 Sadiq Khan says London needs more autonomy*
Britain's opposition Labour Party in turmoil
Corbyn to face no confidence motion
Conservatives set out timetable for leadership battle
London mayor Sadiq Khan has demanded greater autonomy for the UK capital following the vote for a Brexit.
London, with an economy heavily reliant on international finance, was the only region of England to back remaining inside the European Union in Thursday's vote.
British banks have been particularly hit by the results of the referendum, with a number considering job cuts.
"On behalf of all Londoners, I am demanding more autonomy for the capital - right now," said Khan in the text of a speech to be delivered to day.
Khan, from the opposition Labour Party was elected mayor of the captial last month, replacing Conservative Boris Johnson who was a leading figure in the campaign to leave the EU.
Meanwhile the Conservative and Labour parties are both in crisis over the issue.
Another scalp could be claimed late Tuesday afternoon with embattled opposition leader Jeremy Corbyn facing a motion of no confidence.
Despite enjoying widespread support among grass roots Labour members who turned out in force on Monday to encourage Corbyn not to quit, the Labour leader is under pressure from his party's MPs to go.
10,000 people in Parliament Square with just 24 hours notice. jeremycorbyn</a> going nowhere. <a href="https://twitter.com/hashtag/KeepCorbyn?src=hash">#KeepCorbyn</a> <a href="https://t.co/RHLqfHNeUe">pic.twitter.com/RHLqfHNeUe</a></p>&mdash; John McDonnell MP (johnmcdonnellMP) June 27, 2016
Members of Labour's shadow cabinet and front bench have criticised his leadership and lacklustre efforts to keep Britain inside the European Union. But even though almost half his policy team has resigned Corbyn remains defiant. He says he intends to retain control of the party and will stand again if it comes to another leadership election.
Britain's government is also embroiled in turmoil. Prime Minister David Cameron's decision to resign following the shock result of the EU referendum has triggered a leadership battle.
Conservative leadership election rules
Those wishing to stand have from Wednesday evening (June 29) until Thursday noon (June 30) to submit their intention to run.
The party's 1922 committee will oversee the contest in which MPs will pick two candidates from all those wishing to stand. The two will then be put to the wider membership.
The suggested timetable is for a leader to be in place in time for the party's autumn conference, which starts on October 2 – the deadline David Cameron had set when he announced his intention to resign.
Likely candidates
Among those expected to launch a bid to succeed Cameron is health secretary Jeremy Hunt.
He has already come out saying Britain could call a second referendum on EU membership if it can broker a deal with Brussels to allow full control of its borders.
However a YouGov opinion poll has indicated that Home Secretary Theresa May scored better than Brexit leader Johnson on who would make the best prime minister among both the general public and Conservative voters.
However others see May's candidacy in another light:
Theresa May emerges as 'Stop Boris' Tory leadership candidate https://t.co/B4yMjunqhF

— The Guardian (@guardian) June 25, 2016