Germany, Italy and France rule out informal talks on Brexit
Comments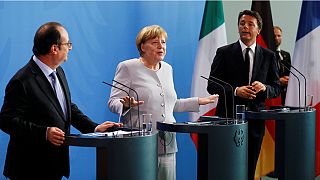 After talks in Berlin the leaders of Italy, Germany and France have ruled out any informal talks with Britain on leaving the EU, raising the prospect of a lengthy political vacuum within the EU.
Nothing is worse than uncertainty

French President
Britain's prime minister David Cameron has frustrated many European leaders, saying he will leave it to his successor, who won't be appointed until September, to start the exit process by formally invoking Article 50 of the Lisbon Treaty.
"This means that – and we agree on that – that there will be no informal or formal talks on the leave, before the European Union has received the demand to leave," Germany's Chancellor Angela Merkel said.
Merkel has appeared to take a softer line on Britain's decision than some European leaders.
At a joint press conference French President Francois Hollande was more forthright however, warning of the dangers of the uncertainty that lies ahead.
"Why not to lose time? Because nothing is worse than uncertainty. Uncertainty causes political behaviours that are often irrational, uncertainty causes also financial behaviours that can be irrational also," he said.
Standing next to him Italy's Prime Minister Matteo Renzi agreed.
"It is not possible to lose time – as we said – we need to respect the rules and the will of the sovereign people and we need to think of a strategy for the next months," he said.
The shockwaves are being felt across the globe at a time when economies are still fragile from the economic crisis in 2008. Interest rates are close to zero and central banks have fewer tools than normal to revive demand if countries enter recession.
Financial markets misjudged the referendum, betting on the status quo despite abundant signs that the votes would be close.
When reality dawned, the reaction was brutal. Sterling fell as much as 11 percent against the dollar on Friday for its worst day in modern history, while 2.8 trillion dollars was wiped off the value of world stocks – the biggest daily lose ever