EU leaders gather for the post-Brexit summit in Brussels
Comments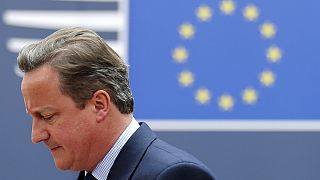 The leaders of Europe's member states are meeting in Brussels for the first time since last week's shock vote by the UK to leave the EU.
The 27 leaders will be looking for clarification from the UK Prime Minister on what will happen next.
EU officials have made it plain they would like David Cameron to trigger Article 50 of the Lisbon Treaty – by which a member state can begin the process to leave the EU.
However Cameron, who has resigned, says he will leave it up to his successor to launch the process.
This is unlikely to happen until this Autumn.
"No cherry-picking"
Brussels is warning the UK cannot pick and choose.
Speaking in Brussels, David Cameron knows he has a job on his hands.
"While we're leaving the European Union we mustn't be turning our backs on Europe. These countries are our neighbours, our friends, our allies, our partners and I very much hope we'll seek the closest possible relationship in terms of trade and cooperation and security because that is good for us and that is good for them."
Migration, EU-NATO cooperation and the deepening of the single market are also on today's agenda for discussion.
In tweets
My remarks ahead of today's #EUCO and tomorrow's informal EU27 meeting: https://t.co/wmjF1vCJEthttps://t.co/OiN9iT2GRc

— Donald Tusk (@eucopresident) June 28, 2016
Cameron's likely final #EUCO doorstep the same as all the rest – quick bullish quote, no questions, stride off

— Danny Kemp (dannyctkemp) <a href="https://twitter.com/dannyctkemp/status/747765729957715968">June 28, 2016</a></blockquote> <script async src="//platform.twitter.com/widgets.js" charset="utf-8"></script> <p> </p> <blockquote class="twitter-tweet" data-lang="en"align="center"><p lang="en" dir="ltr">Bilateral meeting with Chancellor Merkel in Berlin now ahead of <a href="https://twitter.com/hashtag/EUCO?src=hash">#EUCO</a> & informal EU27 summit <a href="https://t.co/P9ohVytwkx">pic.twitter.com/P9ohVytwkx</a></p>&mdash; Donald Tusk (eucopresident) June 27, 2016
Now with Italy Prime Minister matteorenzi</a> ahead of today&#39;s <a href="https://twitter.com/hashtag/EUCO?src=hash">#EUCO</a> and our informal EU27 meeting tomorrow <a href="https://t.co/BPM2y2WRzR">pic.twitter.com/BPM2y2WRzR</a></p>&mdash; Donald Tusk (eucopresident) June 28, 2016
Under eucopresident</a>, EU leaders (incl. <a href="https://twitter.com/MinPres">MinPres) meet >15h00 in #EUCOEUCouncil</a> to discuss <a href="https://twitter.com/hashtag/Brexit?src=hash">#Brexit</a> & <a href="https://twitter.com/hashtag/migration?src=hash">#migration</a><a href="https://t.co/acINMezsNd">https://t.co/acINMezsNd</a></p>&mdash; EU2016NL (EU2016NL) June 28, 2016
French President fhollande</a> joins <a href="https://twitter.com/hashtag/PESleaders?src=hash">#PESleaders</a> ahead of <a href="https://twitter.com/hashtag/EUCO?src=hash">#EUCO</a> to take stock of <a href="https://twitter.com/hashtag/Brexit?src=hash">#Brexit</a>, discuss new vision for Europe <a href="https://t.co/rsK6cvziyn">pic.twitter.com/rsK6cvziyn</a></p>&mdash; Sergei Stanishev (SergeiStanishev) June 28, 2016
---