Iraqi commander declares 'battle of Falluja over'
Comments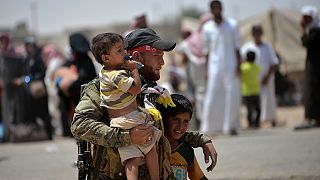 Iraqi forces have recaptured the last district of Falluja held by militants from the self-styled Islamic State movement as the general commanding the operation declared the battle complete.
The Prime Minister Haidi al-Abadi claimed victory over a week ago but clashes then continued inside the city west of Baghdad.
The militants seized Falluja in January 2014.
The assault is part of a wider offensive against ISIL. At least 1,800 fighters from the extremist group were killed in the five-week campaign to retake the city, according to the government.
The operation's success gives fresh momentum to Iraqi forces seeking to retake Mosul – ISIL's effective capital in Iraq and the largest city in its self-proclaimed caliphate.
The Iraqi military says it is now working to dismantle bombs and booby-trapped houses in Falluja, while pursuing fighters who have slipped out of the city.