Sterling hits historic low as Brexit fallout spreads
Comments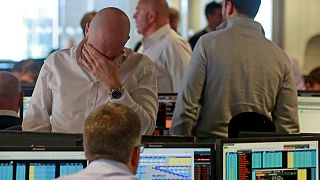 Stocks and shares have been spiralling downwards across Europe after David Cameron said he will quit as British prime minister.
Sterling hit a 31-year low in its biggest fall in history in the wake of Britain's vote to leave the European Union.
The pound's drop of almost 10 percent was historic, marking a decline greater than anything seen since free-floating system of exchange rates was introduced in the early 1970s.
UK and European stocks opened 8 percent lower, reflecting widespread alarm in financial circles over the uncertainty and volatility likely to be unleashed by the Brexit result.
London's FTSE fell 6 percent in early deals, Germany's Dax and France's CAC 40 slumped 7.5 and 9 percent while Italian and Spanish markets lost more than 11 percent.
Shares in UK banks Barclays and Royal Bank of Scotland were down 30 percent. Much attention will be paid to banks after the Hong Kong listings of HSBC and Standard Chartered plunged as much as 10 percent in Asian hours.
Risk assests were scorched as investors fled to the traditional safe-harbours of top-rated government debt, Japanese yen and gold.