Remain camp among first to vote against Brexit
Comments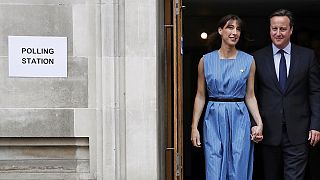 Right up until the last minute the prime minister was urging people to vote remain for a bigger, better Britain inside a reformed EU."
David Cameron called the vote under pressure from his ruling Conservative Party which wants to put to rest decades of debate over Britain's place in Europe and its ties with Brussels.
Jeremy Corbyn echoes Cameron's sentiments
Veteran left-winger Jeremy Corbyn voted 'No' in a 1975 referendum on staying in the European Economic Community, but is now pro-Remain.
He's been criticised for changing his anti-EU stance soon after becoming leader of the Labour party.
Feeling confident after seeing the latest opinion polls with #Remain in the lead as opinion polls are always right. pic.twitter.com/gdlvgtL22P

— David Schneider (@davidschneider) June 23, 2016
Scotland's leader is also staunchly pro-Remain
Nicola Sturgeon has said Britain leaving the EU could also trigger another independence referendum if Scots backed staying in the bloc but were dragged out by the English.
She and her husband Peter Murrell were one of the first people to cast their votes early today.
MP Jo Cox memorial
Commentators say the campaign to keep Britain in the European Union gained momentum after the murder of Labour MP Jo Cox, a strong supporter of Britain staying in the bloc.
Her memorial service was held on Wednesday on what would have been her 42nd birthday.
Vote Love. pic.twitter.com/ugwF8uGN5G

— اسلام (@AfroArabian_) June 22, 2016
"Think not about 'taking your country back'. Think about who you might giving it to" pic.twitter.com/Z2Na49WCHN

— David Schneider (@davidschneider) June 20, 2016
Even the road signs are coming out against Boris now. pic.twitter.com/bYDZ7RKCcp

— Steve Van Riel (@steve_vr) June 20, 2016