Hopes for peace as Colombia signs historic ceasefire deal
Comments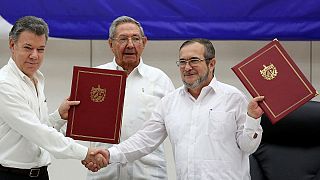 Colombia's president and the leader of its largest rebel army, the FARC have signed an historic ceasefire deal in the Cuban capital Havana.
A peace agreement is expected soon, formally ending the 52 year long conflict which killed around 220,000 people.
Afterwards Colombian president Juan Manuel Santos addressed leaders from across Latin America.
"Compatriots, this is an historic day for our country. After more than 50 years of fighting, deaths, attacks and pain we have put an end to the armed conflict with the FARC. Achieving this agreement fills us with faith and hope."
Then it was FARC leader Rodrigo Londono's turn to usher in peace.
"Let this be the last day of the war. General of the Army, Raul Castro Ruz, President of Cuba, President of Colombia Juan Manuel Santos. Mr. Secretary General of the United Nations, Ban Ki-moon," he said.
Less than a year ago an attempt at a unilateral ceasefire was made by the FARC and the government responded by halting airstrikes on its camps in the jungle. But it didn't last as negotiators failed to meet a self imposed deadline in March.
The FARC, which is still considered a terrorist group by both the European Union and the United States, is now expected to lay down its arms and its soldiers to return to civilian life.
The government has been in talks in Cuba with the FARC since late 2012. The two sides have reached accords on more than half a dozen topics but have yet to come to agreement on a bilateral ceasefire or implementation of a deal.
Santos has come under fire over the past week for comments about the referendum he has promised will take place to approve a peace deal.
He suggested that taxes may have to rise if the fighting continues and the peace deal falls through.
The country's right-wing opposition, led by former President Alvaro Uribe, now a senator, has called for the public to vote against the deal.
He has said it will grant rebels impunity for human rights violations.