Celebratory scenes on the streets of Bogota
Comments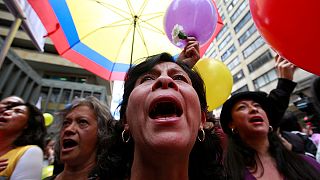 The signing of the historic ceasefire deal between so-called FARC rebels and the Colombian government marks one of the final steps towards a full peace deal in the country.
Bogota resident Gloria Cuartas was among crowds celebrating on the streets of the capital.
"I am 56 years old and have lived in a state of war all my life," she said. "I am so excited and I have hope that the younger generation can enjoy the value of life every day."
Fellow resident Norman Mora added:
"This is a transcendent step, truly, because Colombia was the big pending issue, the exception in Latin America. And now it's together with Latin America in the construction of peace."
Expected to be signed in July 2016, the final deal will mark the end of the longest-running armed struggle in the western hemisphere.