Brexit: prominent 'Leave' campaigners vote
Comments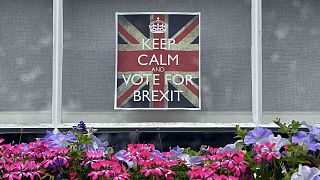 Several prominent supporters pushing for a vote for Britain to leave the EU have cast their ballots.
Longtime 'Leave' campaigner Nigel Farage voted near his home in Kent on Thursday morning.
The controversial UK Independence Party leader said he believed the 'Leave' camp had a ''very strong chance' of pulling off a so called 'Brexit'.
Addressing reporters outside a school in Biggin Hill, Farage admitted much could depend on what he describes as 'soft Remainers', staying at home.
Voter turnout could prove crucial in deciding the final result, with younger voters seen as more supportive of the EU than their elders, but less likely to vote.
There are also concerns the weather may affect the final outcome, with mixed weather and rain predicted across parts of the country.
Earlier, Justice secretary and leading 'Leave' campaigner Michael Gove also voted with his wife Sarah at a polling station in Kensington, London.