Battle for Manbij - US-backed forces enter key ISIL bastion in Syria
Comments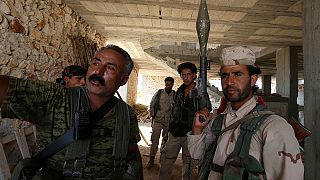 US backed Kurdish and Arab militias in Syria have reportedly advanced into the strategically important ISIL stronghold of Manbij.
The British-based Syrian Observatory for Human Rights says fierce street fighting is taking place in western districts of the northern Syrian city.
The US-led coalition is said to have swept into Manbij from the south and now lies just two kilometres from the centre.
Located around 40 kilometres from the Turkish border, Manbij is seen as a key stepping stone to any future assault on ISIL's de facto capital Raqqa to the east.
Until recently the advance to retake Manbij had been held up due to concerns surrounding the thousands of civilians still trapped inside.
ISIL has been in control of the city since 2014, but has recently suffered a series of battlefield defeats in both Syria and Iraq.