'United in grief' House of Commons pays tribute to Jo Cox
Comments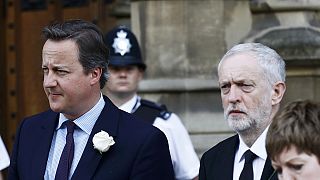 The House of Commons has reconvened to pay tribute to Jo Cox the Labour MP who was shot and stabbed in her West Yorkshire constituency last Thursday.
In a simple yet poignant gesture members all wore the white rose of Yorkshire, the symbol of her county.
The Labour leader Jeremy Corbyn addressed the house:
"Her community and the whole country has been united in grief and united in rejecting the well of hatred that killed her in what increasingly appears to have been an act of extreme political violence. In her tragic death we can come together to change out politics, to tolerate a little more and condemn a little less."
The Prime Minister David Cameron then took to the dispatch box:
'May we and the generations of members that follow us in this House honour Jo's memory, by proving the democracy and freedom she stood for are indeed unbreakable.. by continuing to stand up for our constituencies and by uniting against the hatred that killed her, today and forever more."
MPs break into spontaneous applause after Commons tribute to Jo Cox https://t.co/slOCKdj5NPhttps://t.co/10RkiDNx69

—

BBC

News (UK) (@BBCNews) 20 juin 2016
Her alleged killer, fifty-two year old Thomas Mair, faces charges of murder, possession of a firearm with intent to commit an indictable offence and possession of an offensive weapon in connection with the attack on Mrs Cox.
He is also charged with grievous bodily harm against pensioner Bernard Kenny who came to Jo Cox's aid.
He remains in hospital after suffering stab wounds.
At an initial hearing at Westminster Magistrates Court Mair gave his name as "Death to traitors, freedom for Britain."
He has since been remanded in custody after appearing at the Old Bailey.
Meir's case is being conducted under terrorism protocol.