Church commemoration for murdered British MP Jo Cox
Comments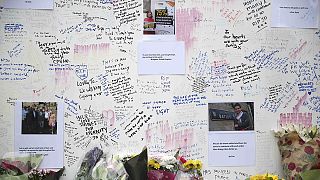 A memorial service has been held for the murdered British MP Jo Cox. The ceremony took place at St Peter's Church in her northern English constituency of Birstall.
The vicar leading the service described her as a "21st Century Good Samaritan."
"Jo was someone who went out of her way to help others. I regret to say I didn't know what she was like as girl, but she grew into a fervent advocate for the poor and the oppressed. She seemed, to me at least, to be one who could fight with a passion and a disarming smile," said Reverend Paul Knight.
Cox was stabbed and shot in the street in her electoral district in northern England on Thursday. The brutal killing of the 41-year-old mother of two young children sent shockwaves across the country.
A 52-year-old man, named locally as Tommy Mair, has been charged with her murder.