Family of murdered British MP Jo Cox pay tribute to 'perfect' relative
Comments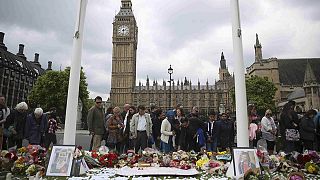 The family of the murdered British member of parliament Jo Cox have gathered close to the scene of the killing to pay tribute.
She was a human being and she was perfect

Jo Cox's sister
They wanted to give thanks to the many well-wishers who'd left flowers and messages – as well as a pensioner who tried to intervene as the politician was attacked on Thursday.
The 41-year-old was shot and stabbed in the street in Birstall, the northern English town where she grew up and became the constituency MP.
She left behind a husband and two small children.
Flanked by her parents, Jo Cox's sister remembered her sibling she described as "perfect".
"We know that there are some evil people in this world but there are an awful lot of good people too… For now, our family is broken but we will mend over time and we will never let Jo leave our lives. She will live on through all the good people in the world," Kim Leadbeater said, to applause from the crowd.
"She was perfect." Jo Cox MP's sister pays tribute to her in Birstall today https://t.co/1IEaxQGr7I

— Huddersfield News (@Examiner) June 18, 2016
Earlier, the man charged with Cox's murder appeared in court in London.
Asked to identify himself, 52-year-old Thomas Mair said his name was "death to traitors, freedom for Britain".
He was also charged with causing grievous bodily harm and possession of a firearm and another offensive weapon.
Mair was remanded in custody until his next court appearance on Monday, the day Britain's parliament will be recalled to allow colleagues to pay tribute to Jo Cox.
Her murder shocked the nation and led to the suspension of the EU referendum campaign ahead of the vote next Thursday June 23, on whether the UK should remain in the union or leave.
It has prompted much soul-searching over the nature of political debate in Britain where politicians are often vilified.
Jo Cox has been described as courageous and hardworking, dedicated to helping others, a former charity worker who had travelled to war zones such as Afghanistan and Sudan, and campaigned for Syrian refugees.
A charity fund set up in her memory has already raised more than half a million euros.
"We have far more in common than that divides us." The words of Labour MP Jo Cox.https://t.co/ekQ3FQ7wFf

— Channel 4 News (@Channel4News) June 16, 2016