Business as usual as 'Brexit' referendum campaign resumes after MP's murder
Comments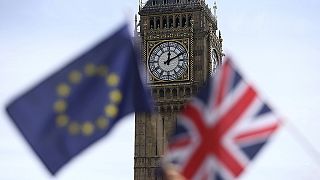 Campaigning ahead of Thursday's referendum on the United Kingdom's membership of the European Union has resumed after a two-day break following the murder of MP Jo Cox.
New opinion polls largely carried out before the tragedy suggest the "Remain" camp may have regained some ground – but the race is still very close.
A YouGov poll for the Sunday Times newspaper suggested support for Britain staying in the EU had restored a narrow 44-43 percent lead over the "Out" campaign. The survey was carried out on Thursday and Friday.
Another YouGov poll reported on Saturday but based on surveys conducted on Wednesday and Thursday suggested the lead of the "Out" campaign had narrowed to two points from as wide as seven points less than a week ago.
After earlier polls had put "Leave" ahead, the paper said the shift did not reflect the fatal attack on the politician on Thursday which led to the suspension of campaigning. Instead, it echoed growing concerns among voters over the economic impact of an eventual "Brexit", the paper added.
A third poll on Saturday by Survation gave the "In" campaign a three-point lead, reversing a similar lead for "Out" in another poll by the company published as recently as Thursday.
A fourth poll by Opinium conducted between Tuesday and Friday put the two camps neck-and-neck with 44 percent each.
Newspapers have been declaring their allegiance. The influential Sunday Times and the Sunday Telegraph have backed "Leave".
This is not a rejection of friends but a plea for real reform https://t.co/6iL7mojQJh#eurefpic.twitter.com/3M6Xp2dBSa

— The Sunday Times (@thesundaytimes) June 19, 2016
But "Remain" has received a boost from the right-leaning Mail on Sunday, whose deputy editor tweeted that this was not the time to risk the UK's peace and prosperity by quitting the EU.
Tomorrow's Mail on Sunday: "For a safer, freer, more prosperous – and yes, an even Greater Britain: Why we urge you to vote Remain." #EUref

— David G Rose (@DRoseMoS) June 18, 2016
Sunday morning saw business as usual as the official Leave campaign repeated its core message.
"I think we should take the chance now as a country to take back control, take back control of huge sums of money – of 350 million pounds a week (note: Leave's estimate of the UK's EU contributions), and spend it on our priorities – and yes, let us take back control of our borders with a sensible, fair and impartial system," Leave campaigner Boris Johnson told a rally of supporters.
Describing himself as "pro-immigration", he said he supported an amnesty for illegal immigrants who had been in the UK for more than 12 years.
The "Remain" campaign and independent analysts have hotly contested the figure cited by "Leave" as representing Britain's EU contributions as misleading and wrong.
Finance minister George Osborne has now said a vote to leave the EU could hit the UK's economy harder than previously thought.
People had already stopped buying houses and cars and investment was being delayed, Osborne said in an interview with ITV's 'Peston on Sunday'.
Leave campaigners have previously dismissed such claims as scaremongering.
With four days to go the economy and immigration look set to be the key battlegrounds – with many voters still undecided.