Iraqi forces continue flushing ISIL fighters out of Falluja
Comments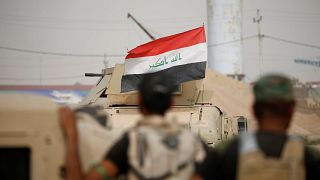 Iraqi forces on Saturday were clearing mines in Falluja after driving the Islamic State group (ISIL) from most of the city, one of its last remaining strongholds in the Anbar province west of Baghdad, a military official said.
Fighting was still underway in parts of the city, where US and Iraqi warplanes targeted snipers and other ISIL positions, according to an Iraqi military official.
Troops had cautiously advanced toward the hospital, fearing that the militants would use patients as human shields, but when they stormed the facility they found no patients inside, the official said, adding that the Iraqi flag has been raised over the building.
The troops later captured the Dubbat neighbourhood and are now pushing into the northern neighbourhood of Golan and several small areas, he said.
Iraqi special forces swept into Fallujah on Friday, recapturing most of the city after weeks of fighting on its outskirts.
Iraqi troops have been advancing under the cover of airstrikes by the US-led coalition and Iraq's air force.
The operation inside the city of Fallujah was being conducted by the Iraqi army, regional and federal police forces as well as special anti-extremism units.
Shiite militias, known as the Popular Mobilization Force, remained outside Fallujah and have not taken part in the recent battles.