Humanitarian situation deteriorates in Falluja, Iraq
Comments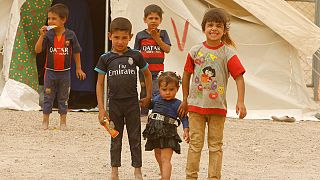 The humanitarian situation continues to deteriorate in Iraq, as people displaced from their homes by violence face a summer in harsh conditions. More people are being forced to flee their homes as a result of renewed fighting.
In recent days, Fallujah, which lies around 60 km west of the capital, Baghdad, was the first Iraqi city to be targeted by government forces continue their offensive against the Islamic State group (ISIL), Mossul is widely expected to come next.
Iraqis are still enduring difficult living conditions and in need of humanitarian assistance. This humanitarian crisis is magnified by political instability and a severe economic crisis, which is further eroding Iraq's fragile infrastructure and crumbling services, already weakened by years of violence.
The number of people affected by the ongoing conflict continues to rise, with more than 3.3 million Iraqis now displaced throughout the country, causing an increasing strain on already destitute host communities.
In many instances, displaced persons (DPs) are still very much settling in areas closed to the conflict zone where in order to have access to hospitals to health centers to schools, checkpoints need to be crossed.
Fabio Forgione shares his concern with Euronews. He said the incredible political fragmentation in the country will most probably ignite further conflicts even if ISIL is weakened.
The difficulties of reaching political settlements will most probably trigger additional conflicts and additional displacements.
Hameed Khalaf Ahmed is 64 years old. He is from Ramadi, north of Baghdad. He left his birthplace to seek refuge in Baghdad when ISIL took over. He is one of over 3.2 million Iraqis now displaced within the country.
Hameed is a farmer and father of ten who owned a bit of land in the village of al Hamadeya, on the outskirts of Ramadi. His wife ran a convenience store in the village.
He fled with his family to a nearby village a few kilometers away. He moved into a house his cousin arranged for him and lived there for a few months.
The place also eventually fell to ISIL, however, and Hameed was forced to flee again, this time in the direction of Abu Ghraib, a district west of Baghdad.
The whole family fled together, except for one of Hameed's daughters, Afaq, who stayed behind with her husband. Afaq's house was hit by airstrikes and nine family members were killed, including her husband and daughter.
Fleeing across ISIL‐controlled villages was not easy for someone who had lost everything. In Abu Ghraib, Hameed gets by on handouts from neighbors and local charities. He is traumatized by the violence he witnessed and hopes to return to his house and land in Ramadi.